Coucou ! C'est Aurélie et mes parents et moi, nous avons passé trois jours à Paris. J'ai plusieurs

photos
à vous montrer. Je vais commencer avec les photos de mon premier jour...
For those of you who don't speak French, my parents and I spent three days in Paris. Although I have been there numerous times, going is still a wonderful treat. We covered a lot of ground, and I'd love to share my highlights with you.
My family and I stayed in an apartment-hotel close to the Op
éra Bastille.
This opera house is very modern, and in my opinion, doesn't "fit in" with this part of Paris; it would look better closer to
La Défense.
It was inaugurat
ed by president François Mitterand as apart of his Grands Travaux- his plan to build more modern buildings in Paris. The Bastille was completed in 1990 near the location of the infamous Bastille prison and became the main building for the Op
éra National de Paris.
Operas are mainly showed there, but so are ballets and symphonies. My parents and I went to an opera there, but it wasn't my thing. I much prefer the ballets and symphonies...especially the ballets. I'll be back in March to see
Le lac des cygnes
! I can't wait!
(I accidentally deleted my photo of the building...)
So, my parents and I decided to walk to
Notre Dame de Paris
. We passed through the 5th and 6th
arrondissements
(which contain parts of the
Quartier Latin
where my acquaintance Christelle and her sister Marie-Christine live). We passed th
e Panthéon, which used to be a church dedicated to Sainte

Genevi

è

ve. It later evolved into a mausoleum for some of the greatest in French history. Sabine's favorites (Voltaire, Zola, and Rousseau) have been laid to rest there, alongside one of my favorites. I like Zola, too, but I'm specifically thinking of another person. I wonder who that is?
Any guesses?
That would be Victor Hugo, author of
Notre Dame de Paris
and
Les Misérables
, He wrote several more, but I think these are the two the majority of my readers would know best. You might know
Notre Dame de Paris
by its other title,
The Hunchback of Notre Dame
. No, Hugo's work is not happy like Disney's movie. Quasimodo, Frollo, and Esmerelda are also characters in Hugo's novel, but Hugo'
s work is more focused on the cathedral itself. He was upset that the church's Gothic architecture was overlooked in favor of more modern buildings. He was also angry that some of the stained-glass windows were replaced with white glass. As Hugo states in Notre Dame de Paris, "

Paris est né

,

comme on sait

, dans cette vieille île de la Cité qui a la forme d'un berceau." Although the cathedral most likely wasn't the first building in Paris, the
île de la Cité
on which it was built is probably the oldest area, probably because it was surrounded by water which meant better protection in the Middle Ages. The city of Paris just grew around that
île!
Let's take a look inside:
You could really say that Paris was born near Notre Dame; after all, that's where you can find the point zéro marker (the point that basically indicates that all roads lead to Paris).
The sun was setting, so I thought it would be a nice time to take a photo with the Seine in the background.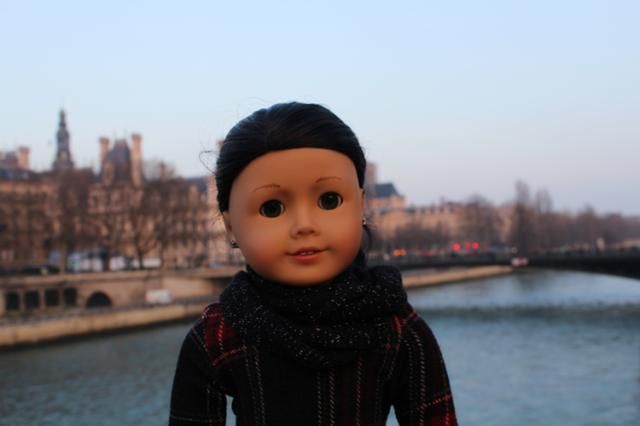 Can you spot another famous Parisian monument in this photo? (Hint: it's kind-of blurry.)
I also had to get a photo in front of the famous locks on the Pont des Arts. In the daytime, artists line this bridge and the areas around it. Couples and friends write their names on the lock, lock it on the bridge, and throw the key in the Seine. The locks are slowly filling up the Pont Neuf because their weight is weighing down the Pont des Arts.
This is just Day 1; more Paris posts are on their way.
Bisous,
Aurélie