...ça m'énerve!
Des joggings sont laids et dégoûtants- ah, ouais!
Ça m'énerve!
Toutes celles qui rentrent dans le
débardeur en taille 42
Ça m'énerve!
Ça m'énerve que Malorie s'en fiche que ses
vêtements sont
effroyables!!!
Eh, bonsoir, tous ceux qui lisent ce blog. C'est Sandrine! Désolée que j'ai écrit une petite chanson. C'était une parodie de "Ça m'énerve", une chanson d'Helmut Fritz que j'aime un peu.
Sorry about my little French rant/parody of a Helmut Fritz song. Although the dance that we have been talking about was on the 14
th
,
la fête nationale française
, I'm just getting around to blogging about it now. You Americans might know
la fête nationale française
(or
le quatorze juillet)
as Bastille Day, but that's just a name given to our national holiday by English speakers. We don't call it that in France. Basically, what the day celebrates is three years later, after the storming of the Bastille,
la
fête de la fédération
- or the day France became a new republic.
Vive la république française!
That's enough about
la fête nationale.
You can read more about it on the website that I linked you to. I have more important things to worry about than my country's history.
My friend Malorie isn't very into clothes or her appearance. The only time she truly wears make-up is when she is performing. She sometimes wears eyeshadow, mascara, and lip gloss to school, but that's it. She is also rather lazy when it comes to her outfits. Malorie has always been serious about dance. She has attended the Pittsburgh Ballet Theatre School since she was a young child, and as she became more serious about dance, she began to take online classes instead of attending regular school so she could focus on dance. What a nice life- I wish my parents were more accepting! Anyway, this has lead Malorie to love sweatpants. When she puts herself together, she actually looks nice! When she doesn't, however, she tends to look sloppy. Malorie wanted to wear sweats and hoodie to the dance, and I screamed in horror! Instead, I told her that I'd choose an outfit for her as well as do her hair and make-up.
The first thing I did was take her hair out of that high ponytail. I understand why she likes to wear her hair up. I think it's a dancer thing. I can't stand it hanging in my face. However, unless the high ponytail is for a performance, it isn't cool to wear in public. So yes, I yanked that hair elastic from her hair as hard as I could! I wanted to pin her bangs aside like she does for performances, but it was too much of a hassle. Bangs are pains-in-the-butt. I don't know how anybody can tolerate them! Feeling that hair on my forehead would bug me to no end. I wouldn't mind the upkeep and styling involved with bangs, seeing that styling hair is one of my favorite pastimes. Like I said, I just don't want hair in my face!!!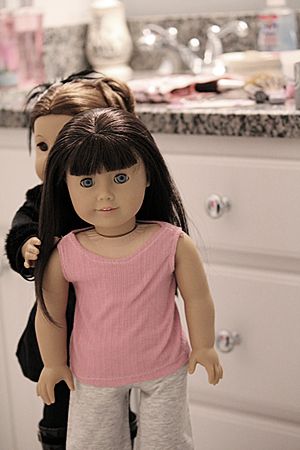 I then decided to to Malorie's make-up.
*MAKE-UP TIP #1: To make brown eyes pop, wear colors that are opposites of browns (like blues, purples, greens, etc)*
However, Malorie doesn't have brown eyes, and the only things I had in my personal make-up bag were blue and purple eyeliners.
*MAKE-UP TIP #2: If you have blue eyes, colors such as golds, browns, and coppers will help show off those baby blues! Think in colors that are opposites of blues*
I couldn't find any browns, but I found that blue eyeliner that is a darker shade of blue than the eyes can also look good. Many make-up sites confirmed this, too. I decided to use the best, darkest blue eye pencil that I had.
I basically made a mess out of this, but whatever. Doing make-up is so much fun! I wanted to curl Malorie's hair, too, but her hair is too straight to curl without applying heat. Not cool. Oh, and of course, somebody took my curling iron! As mad as that made me, I took it as a compliment because it was an expensive one my parents bought me for Christmas one year.
I applied the finishing touches, and as I was doing so, Malorie's voice quavered with fear. "Sandrine, we need to talk. I've been keeping something from you for months."
I paused, almost dropping the eyeliner and making a mess. "What do you mean? What do you need to tell me?"
Malorie gulped. "It's about your friend...the one who disappeared."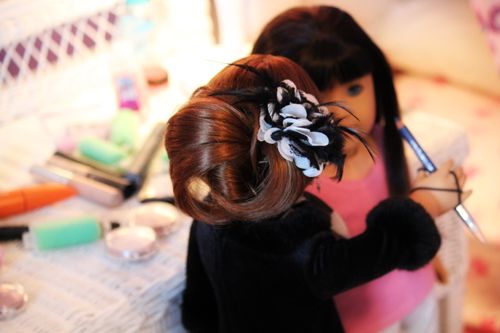 I sighed. Whatever it was, it probably wasn't too important. If it were a major crisis, I was certain Malorie would have told me earlier. Oh, well. My priority at the moment was the dance.
Gros bisous,
Sandrine <3