Bonjour, tout le monde! C'est Sabine!
Although Halloween isn't commonly celebrated in France, dressing up is fun regardless! We don't do the whole trick-or-treating thing that Americans do, but some people do host occasional parties. Aur
élie and I are having our own "party" of sorts on Saturday night since she has never celebrated before, and I want to introduce her to this fun, American celebration. We're going to watch some horror films and do other stuff that can be deemed as "scary". I thought it would be more fun to do that on Halloween night, but since it is going to be a sleepover, we had to choose a day that wasn't a school night.
I'm dressing up as Hannah Montana this year. I was Miley Cyrus a couple of years ago, so I figured I should dress up as Hannah...even if it's just for a sleepover with my best friend.
Here's a photo of me, my costume, and the inspiration behind it: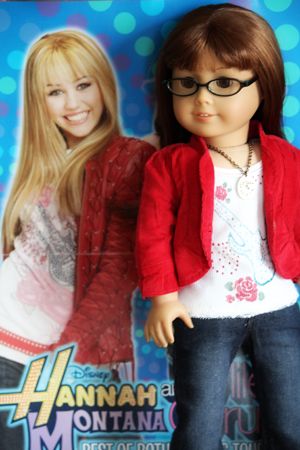 Aur
élie doesn't know what she is dressing up as yet; hopefully, she'll know soon. I'll be sure to post about the party this weekend.
Do you celebrate Halloween? What are you dressing up as, if you decide to dress up?
~Sabine