Ciao!
C'est moi, Sabine, qui ne peut pas parler italien...
So, what did I do during my second day in Rome?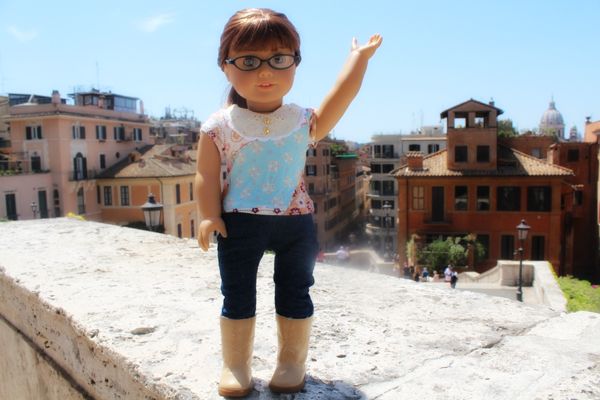 I climbed all 135 steps of the Scalinata di Trinità dei Monti, or what most people know as the Spanish Steps. The funds were given to the Italians by a French diplomat, and the stairs linked the Bourbon Spanish Embassy to a church.
At the bottom of the steps, there is a cool fish fountain...
The stairs! Sadly, the church was under construction. There were also irritating men trying to sell tourists selfie sticks. Gross. I have a real camera.
The Piazza di Spagna:
Here's where I need your help, readers. On our way to the catacombs, we saw this beautiful building. However, we don't know what it is. If you know, leave a comment below!
Our next stop? The catacombs of St. Callisto, located on the Appian Way! This was my favorite part of Rome, hands-down. We had a wonderful guide, too, who told us several cool facts about the site.
We weren't supposed to take pictures in the catacombs, but you know me. I don't really follow rules well.
The crypt contained the tombs of popes from the 2nd to 4th century as well as many children and babies who died. The tombs were looted and empty, though several are still in tact. Greek was the written language of the Church, so you can see that on some of the stones.
The catacomb tour was a great reprieve from the sweltering Roman heat. I drank at least five bottles of water. It was a drastic change from the weather in Lille, which is several degrees cooler. Regardless, Rome is gorgeous.
A la prochaine,
Sabine