Bonsoir, tout le monde! Désolée que je n'ai pas écrit. J'étais très occupée.
To start off,
je suis très fatiguée.
I am beyond EXHAUSTED, thanks to the lovely Lilly Poullian. She woke me up at four because she wanted somebody to watch the royal wedding with her. Um, yeah. Half of the girls were up. She didn't need me! I value my sleep time.
Anyway, the royal wedding...
je m'en fous
. Seriously. I don't care, and I don't get the fuss. I've never really been phased by the British. I, however, do LOVE Monaco's royalty, but I'm not sure I'd want to be
Princesse Sabine de Monaco.
Speaking of Monaco, this movie looks like it will be great:
Oui
, I hate Selena Gomez. She is one of my sworn enemies, but still. Why would I avoid this film just because of her? I mean, these girls go to Paris and Monte Carlo. I never miss American films that somehow involve France (and Monaco). This won't be an exception. I'm too in love with cities on the
Côte d'Azure!
I thought Ratatouille was, however, dumb, but that was maybe due to the fact that Miley didn't provide the voice for any of the characters. I forgive Disney. They let her voice in Bolt. :)
The royal wedding made me think about my own wedding. Chrissa wants to get married under the Eiffel Tower (shocker), but I yearn to do something less stereotypical. I'd love to get married on the rocky shores of Nice...or outside of my beloved
Palais des Beaux-Arts
in Lille. I'm just dreaming of the day I get to marry my beloved Julien (or Gérard), and I will be wearing a strapless white dress. To some, I'm too young to consider my future, but I just love to daydream...
While I am all gushy and lovesick, I might as well say I have a beautiful heart. Or so, my grandfather told me and my necklace continues to tell me.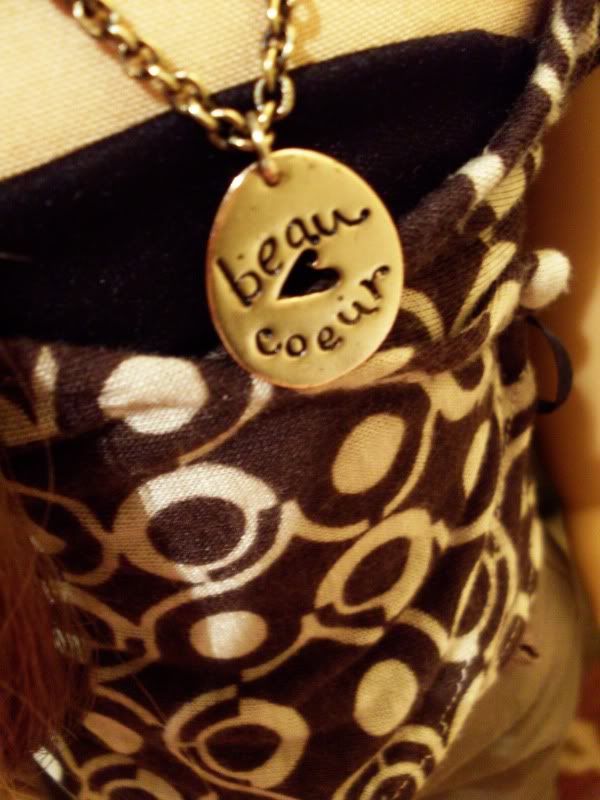 It was a gift from my maternal grandparents before I came to America. The day it was given to me will always remain unforgotten; it was the last time I saw my
grand-père
before he passed away. I was going through a tremendously difficult time when I was given the necklace, and he told me it served as a reminder of how beautiful my heart was. Cheesy, but hey, what are
grand-pères
for? I miss him so much, and it reminds me of him every single day. It also reminds me to keep my cool in unpleasant situations. So, obviously, it is completely special to me. It even comes before my Miley Cyrus CD collection on the "my special things" list!
Enough of that...I'll have more to share tomorrow. The Teen Dance is tonight at 10, so I should be getting ready...
Sabine