Salut, tout le monde! Lilly sait.
C'est tout.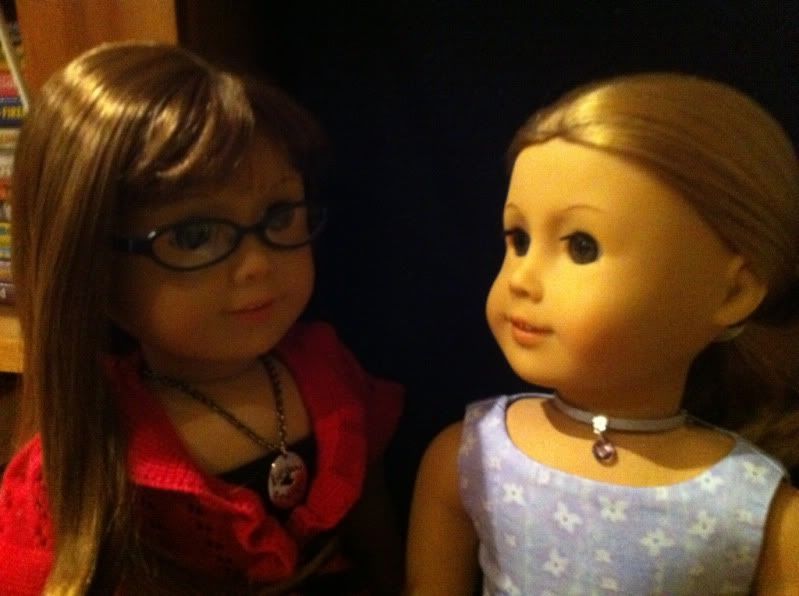 Our conversation went something like this:
Lilly: Why did you cross your name off the list?
Moi: What list? (Playing dumb is always a smart, good option.)
Lilly: Don't play dumb with me. You know.
Moi: No, I don't.
Lilly: You crossed your name out. Just admit it.
Moi: I think somebody really, really hates me and doesn't want me to be part of the team! Jealous girls these days...you HAVE to love them!
Lilly: Nobody thinks you're potential competition. Just confess, please!
Moi: Fine. I did.
Lilly: But why? I wanted to be apart of something for once! I wanted my best friend to be apart of it, too!
Moi: I'm sorry, Lilly, but I know that I do not have the ability or desire to cheer.
Lilly: I get it. No, really, I do. I'm not mad or anything. I'm just disappointed. That's all.
Moi: Why don't you ask Jess? You're just as good of friends with her as you are with me!
Lilly then froze in her tracks. "Silly," she scoffed. "You know Jess already made the varsity soccer team. She doesn't do cheerleading. Whatever is going on between you two needs to stop. It's pathetic and ridiculous."
I sighed and headed for my room. I consider myself to be an introvert, and I very much enjoy my quality thinking time. Being around people sometimes overwhelms me, and it just overwhelmed me right now. Lilly is my only true friend in America, but she has been really bothering me lately. Maybe we just need some time apart? I probably was wrong for making sarcastic Jess remarks, but Jess is just the absolute most annoying person ever. She is my academic competition that I don't even want to compete with! After she realized that I was just as smart and well-traveled as she is, she decided to start competing with me when it came to school-related things. Oh, and the best part? She is a huge know-it-all. And she LOVES to brag about her accomplishments. She is gifted, yet before every test, she declares that because of soccer practice, she didn't have time to study and she'll probably fail. How annoying. She never gets anything but As! It's like she just wants attention...
The thing is, her twin (Zan or Alexandria...whatever you know her by) is smart, too, but she never brags. She does her own thing.
Oh, girl drama sometimes. It can be buckets of fun...
Sabine