Salut! C'est Aurélie! Comment allez-vous aujourd'hui?
A friend,
Samantha Parkingon
, nominated this blog for the Versatile Blogger Award. Things around here have been extremely busy, so instead of playing by the award's rules, I'll just mention seven things about myself. Some you may now already, some might be new. Here I go...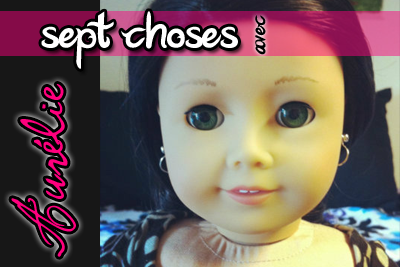 1. I am an only child. I'm sure that this is glaringly obvious by now, but I thought I'd mention it again just because I feel like it says a lot about me sometimes.
2. The reason I am so devoted to working with young children who are struggling in school, with ballet, or with playing the flute is because I know what it is like to struggle. Although I've never struggled with ballet or playing the flute, I certainly have struggled with school. Unlike Sabine and Sandrine, I'm not naturally academically gifted. All of my good grades are because of hard work and dedication. It's something I'm very proud of. When many people would just give up, I fought my troubles. I want to inspire children to do the same…and I want to show them that quitting isn't the answer.
3. I definitely have a little bit of a crush on one of my guy friends. I cannot believe I just admitted to that! I won't be revealing any names, though…
4. I sometimes consider Sabine to be my sister. Why not? We're very close to each other, and we literally tell each other everything. She has somewhat of a "wild side", but I keep her sane. She couldn't thank me enough for that; I've seriously saved her from getting in trouble on several occasions. We also always have sleepovers; we watch movies, paint our toenails, sing karaoke, and just talk about life. We sometimes like to bake random treats. For example, Sabine's friend Lilly sent her a recipe for Oreo brownies. Oreos are practically nonexistent in France, so we're waiting to make these whenever we can actually get out hands on Oreos. Melanie also sent Sabine a recipe for peanut butter fudge, but peanut butter doesn't really exist in France. It might be nice to try, but Sabine says peanut butter is really disgusting; she loves Oreos, though, which makes me want to try them!
5. When I grow up, I would like to dance professionally for l'Opéra National de Paris. Of course, one's career as a professional dancer is usually very short, so there are two things I'd like to fall back on. I'd love to play the flute in a professional symphony orchestra. I'd also love to become an English teacher and a dance instructor. There is just so much I want to do!
6. People think that I look like Marion Cotillard (even though her eyes appear to be more of a gray color), and I take that as a great compliment because she is my favorite actress ever! My favorite movie that she stars in is La Môme, which most Americans know as La Vie en Rose. I wish I could sing like that. I also like her other films, but that one is my favorite.
7. Here is the big news/surprise I briefly mentioned in my previous post- my family is going to host an exchange student from Spain next year! I'm very excited; I cannot wait to meet her! However, I don't speak Spanish, which is why I'm trying my hardest to learn.
Merci beaucoup, Samantha! We really appreciate it!