Bonjour, tous ceux qui lit ce blog!
I'm back to tell you all about Round 3 of LMPT- "Out of this World". Instead of taking the theme of this round too literally and doing something involving outer space, I decided to take a more figurative approach.
As most of you may know, I would love to dance for the
ballet de l'Opéra National de Paris
someday and eventually be promoted to
étoile
, or principal dancer. In everyday French,
étoile
means "star". Normally, the French use the English word "star" to describe celebrities, but in the ballet world...? No. If you're a principal dancer, you're an
étoile
.
Like a star in the night sky, dancers come alive on stage. The spotlight shines on them while the backdrop tends to be darkened. The dancers are the stars; the stage is their sky. For this round of LMPT, I wanted to showcase the image of a young dancer who is illuminated by the spotlight when she performs. To her, dancing in front of renowned audiences is her chance to be amongst the stars.
To get the look of a dancer being in the spotlight, I used a large flashlight with many books and boxes as a platform. The light still hit below my face, but I didn't feel like gathering anymore boxes. For the backdrop, I used a black shirt and some stars made out of tin foil.
Coming up with my outfit was the trickiest part. I decided on wearing the dress I wore to 8th grade graduation, but taking the photo so that it looked like the bodice of a fancy tutu. I also borrowed Alyson's tiara. I was going to place a rhinestone bobby pin on each side of my head instead, but I felt the tiara looked nicer.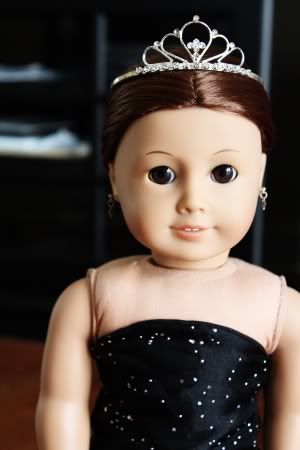 Here are some of the outtakes from the shoot. I will share an explanation of why I didn't choose them for my entry.
I liked the fact that my bun was showing in this photo, but too much of my dress showed. It didn't look like merely the bodice of a tutu like I wanted. The trick didn't work in this shot.
This photo was going to be the one that I entered, but I decided I liked the angle of the one I entered better.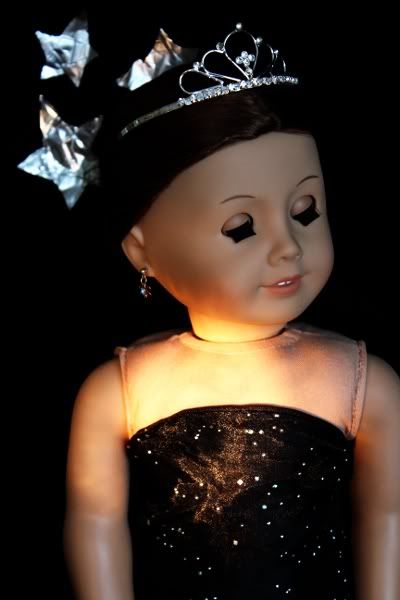 Again, I wasn't too fond of the angle of this photo.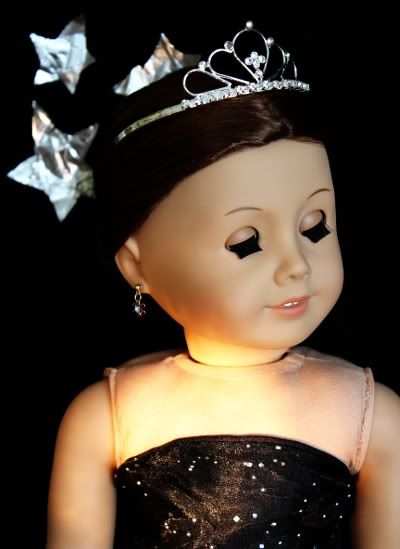 I really loved this photo, but I thought a vertical shot worked better than a horizontal shot because I looked as if I were naked in this picture!
Here is the photo that I decided to enter. I liked the lighting best, and I particularly liked the angle at which this photo was taken. I thought it had a magical, dream-like quality to it, especially since my eyes were closed.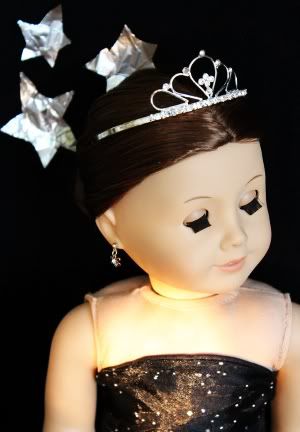 Here it is in black and white:
Round 4 will be next! Before I finish this post, I'd like to share a photo of what my hair looked like after removing all those darn bobby pins. Buns might be the death of me.
Bisous,
Sandrine