...I will kindly direct all of my readers to this interesting topic.
CLICK HERE!
Since I have red/auburn/whatever-you-want-to-call-it hair, I found reading this interesting. While red hair isn't common to France as a whole, I will say that it is far more common in the northern regions where the people are lighter. I have yet to see a redhead in Nice, but I'm sure some live there. One's coloring just depends on the region s/he lives in, I guess, and some people don't get that because I was asked by an American (hint...her name starts with a "C" and ends with an "A") if I was seriously French* because "French people don't have red hair". So yeah, to reiterate, most have darker hair, but regional differences also play a role...AND THERE ARE REDHEADS IN FRANCE. In some ways, I feel like she is stereotyping...
*Note that she never asked Christelle this question, and Christelle is
rousse
, too.
To add to our discussion of regional differences, here's #3: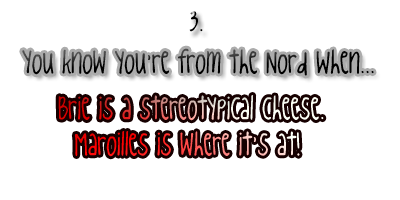 Maroilles*- it's probably one of the more common cheeses from the Nord=Pas-de-Calais (and the Picardie region, which is below the NPDC). In my previous post, you can see that it's also common to dunk it in coffee. Not going to lie, it's strong if you aren't used to it, but I think it is delicious.
*You're probably wondering how to pronounce that..."mar-wahl". :)
Sabine