Salut, tous ceux qui lisent ce blog! C'est Sandrine!
When I attended the Global Outreach program in the US this summer, my friend Chrissa and I went shopping. There is a cute accessory store in America called Icing, and some of the items I saw looked enticing. I suggested to Chrissa that we go check it out. Needless to say, a few minutes later, I came out with new earrings and a hairbow!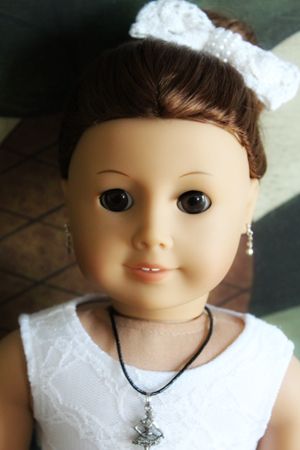 My new earrings are sterling silver dangles with faux diamonds. I love that they go with almost everything.
For those of you who don't know me by now, I am obsessed with fun hair accessories! They really spice up the fun hairstyles that I find on Pinterest.
Speaking of Pinterest, did you know that I have my own Pinterest account?
FOLLOW ME
to catch a glimpse of the things I love. If you have a Pinterest account, too, let me know your URL so I can follow you.
Do you like hair accessories? What types of hair accessories are your favorite?
Gros bisous,
Sandrine