Bonsoir, tout le monde et joyeux decembre ! C'est Sabine. C'est le mois de ma naissance et du noël. Oui, je suis heureuse !
Since Christmas is approaching, Julieta and I did some holiday shopping. Afterwards, we returned to her room to do some wrapping.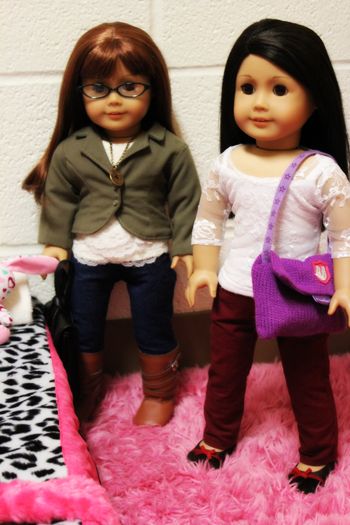 We broke out the bags and ribbons and were ready to begin the fun disaster that is gift wrapping.
Julieta lined a Christmas-y red bag with some white tissue paper.
I plopped the gift in the bag and covered it with the remaining paper...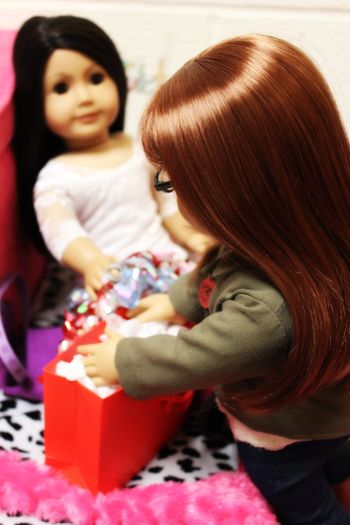 ...and I embellished the bag with pretty silver, blue, and red ribbons to make the bag look more festive.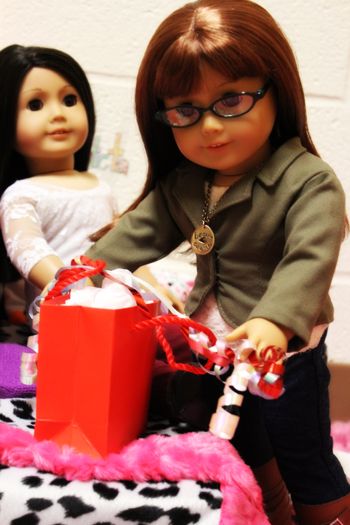 I took a picture of Julieta posing with the first (completed) wrapped present.
Julieta got to work with wrapping two other gifts. Both gifts were so cute, but I can't say what they are! That would ruin the surprise, especially if the recipients read this blog!
While Julieta was doing that, I put together a Christmas/birthday gift for a friend. Isn't the bag the cutest? My friend Lilly sent it to me.
Julieta chose a pretty floral ribbon for the last gift she wrapped. I think it would make a fun hair ribbon after the gift is unwrapped.
Here we are with our wrapped presents! We still have to shop for other people, but this is a good start.
Although I LOVE receiving gifts as much as the next girl, I also have a lot of fun choosing gifts for friends. I get so excited when I find the perfect gift- I know I have to buy it! I have had one of my friend's gifts since this summer. It was just so her; I couldn't resist.
Have you done your holiday shopping yet? Who did you shop for?
~Sabine