Bonsoir, tout le monde ! C'est Sabine, et on sait peut-être que j'aime beaucoup faire du shopping.
That is, I like to shop. You can never have too many clothes, right? Right. So, you're probably wondering where my friends and I like to shop. There are unique boutiques lining the streets of
Vieux-Lille
, but those tend to be pricier. If affordable fast fashion is what you're looking for, the Euralille
centre commerical
--or mall--is the place to go! It's currently being renovated on the inside, but I still took some pictures to give my readers an idea of where I go to do some serious damage (to my wallet).
Here's one of the entrances that includes the metro. It's a very modern building in a more modern quartier, but if you walk down the street, you'll be among the old, Flemish architecture again.
There is a massive Burger King near this entrance. It's right next to Quick, which is another fast food restaurant. My parents didn't really feed us this stuff, so I personally think it's gross. I'm from Lille; if I want fries, I'm going to a
friterie
...not a fast food place!
Here's one of Sandrine's favorite stores. These apparently exist in the United States, too. Sephora is expensive in France; my American friends say that it isn't as expensive in the US. I'm not one to buy expensive makeup since I'm not into it like Sandrine is, but I did go on a mission to find Miley Cyrus's Viva Glam makeup line. However, you can only find it at MAC cosmetic stores. I will buy expensive makeup to support my favorite pop star and actress.
Naf Naf
is Aurélie's favorite store. It sells fast fashion but at a higher price. It's also extremely girly and not really my thing.
We also have a Lego store! I WANT THE FROZEN LEGOS. I know that once I build the castle, it would just sit there and look pretty. I'm kind-of past the playing with toys stage, but I can't help but want everything
Frozen
. Legos are more expensive in France, sadly. I might have to snag a set when I visit the US this summer.
Ah, here's one of my favorite stores.
Pimkie
is similar to Forever21, but again, a little pricier. The prices aren't outrageous or as high as the prices at Naf Naf. They have cute clothes that suit my style perfectly.
We also have other American stores like Claire's and Hollister. Hollister totally isn't my style, and I love the Frozen merchandise at Claire's. I bought a kit that teaches me how to braid my hair like Anna's...
I didn't buy much this shopping trip. I found some awesome jewelry for a friend, and I had to get it. I love finding perfect surprise gifts for those close to me.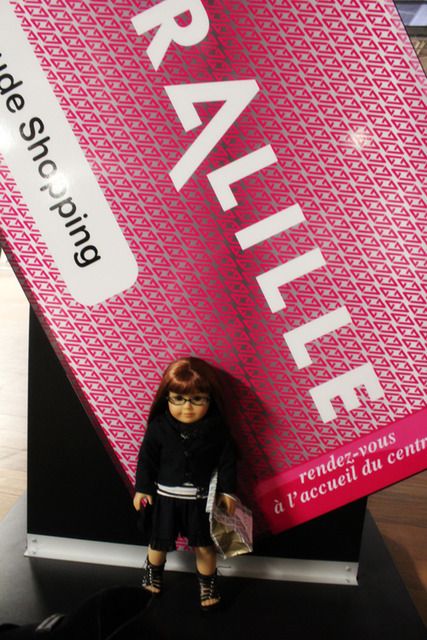 I hope you enjoyed this peek inside the Euralille. I have more interesting posts about Lille coming up, so stay tuned!
Do you like to shop? What's your favorite store?
A tout!
~Sabine