Miley Cyrus est née le 23 novembre 1992 en Tennessee. Maintenant, elle a dix-huit ans!!! C'est incroyable! Joyeux anniversaire à la meilleure chanteuse!
Aussi...
Mon frère, Sébastien, est né le 23 octobre 1992...
Oui, today, Miley Cyrus celebrates her 18th birthday! Happy birthday to Miley! Now that she's 18 and a legal adult, the press needs to stop obsessing over everything she does. She can make her own choices/decisions now, and she shouldn't be under a microscope.
Miley aside, keep in mind that my brother, Sébastien, turned 18 last month on this very same day (the 23rd). Sounds unimportant, right? Well, actually, if he was born a month later, he would have shared a birthday and birth year with Miley. How cool would that have been?
Très!
1992 was a pretty awesome year, I think. Felicity got the rest of her core collection, my brother was born, and the best singer/actress in the whole entire world was born!!! Yeah!
I guess some people turned out better than others, though. Most of Felicity's stuff has been retired over the years, and now she's heading into the archives, and her time period is probably the most important in American history.
Pauvre Félicité.
But Miley and my brother are doing just fine!!!
To celebrate Miley's celebrity status, I'm going to begin a limited-time feature on this blog called the Monthly Miley.
Quoi? Je vais expliquer
. Every month, I will be posting a photo of either one of my friends or readers dressed up as Miley. The only catch is, you have to be dressed up in an outfit that is similar or exact to one Miley has worn. To get inspiration,
CLICK HERE
. You can also use Google Images to search, too. When you have taken your photo, e-mail it to me at
sabineb1219@yahoo.fr
for the chance to be featured. I'll give away a prize to my favorite photo once this little feature is finished.
Oh, and as a way for me to prevent obnoxious spam, the title of the e-mail should answer this question: What is the name of Alizée's CD that features the songs "Fifty-Sizty" and "Mademoiselle Juliette"?
I'll start out the Monthly Miley by posting my imitation of her latest CD cover: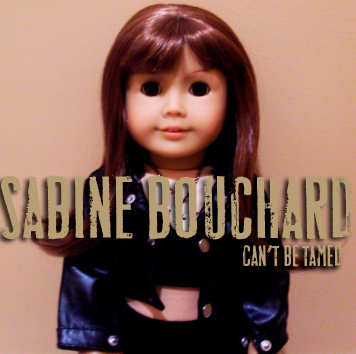 I'm sure you guys can beat that. :)
Amusez-vous!
-Sabine