Salut, tout les poupées à la modes…
This post was undoubtedly inspired by recent discussion and, of course, my enduring obsession.
Cinnamon Miles is literally the Coco Chanel of the eighteen inch universe. I swear this woman's mission is to put an end to fashion mishaps everywhere! Everything she makes is trendy, fun, and fashion-forward. Her color choices are also great- not obnoxious like AG's.
Oui, AG. I'm rolling my eyes at you. The only things you ever gave me were the Photography jacket, a few sweaters, some tanks, and the Velveteen coat, and heels. You don't get full credit until you create outfits worthy of sophistication.
Less-spectacular offerings from AG aside, Anyway, Madame Miles can safely be added to my personal list of life-altering idols, worthy of my adoration and praise. She landed herself a place amongst the great- Miley Cyrus, Marion Cotillard, Edith Piaf, Coco Chanel, Louis Vuitton, and other amazing French designers.
Liberty Jane has always had amazing clothes, but for some reason, the outfits produced this year were more amazing than usual.
Let's start with the spring releases. UK Holiday and Sinjuku Starlet were my two favorites. The UK Holiday tunic basically had my name written all over it. I loved the fabric. The Sinjuku Starlet outfit…? Very mix-and-matchable, BLACK!!!!, I loved all the pieces…
I'll finish with the Winter/Fall releases. The Paris Daydream top is amazing. I would definitely wear that!!! It's just, so me…
The Sofia blazer is also fabulous. Again, doesn't it look like something I'd wear? I love the gray. LOVE THE GRAY. I love the use of neutral colors in this line; everything looks so sophisticated and oh-so European.
Take notes,
tout le monde
, if you need Christmas gift ideas for me. I'd also really, really love Miley's "Can't Be Tamed" CD and the Hannah Montana Forever soundtrack. :)
Here's where my only complaint comes in- they are up for auction on e-bay ONLY. I was getting my hopes up for some buy-it-now editions on her website, but sadly, there are none. I do not care about her clothing prices; as long as the pieces fit nice and are of high quality, I don't care about the price tag. That might just be the French couture snob in me, but still. I think she should put half her stock up for auction and half as buy-it-nows, even if that means a high price. Or, she could even create some separates from the line to sell as buy-it-nows…
*sigh* I am hoping for some BINs in the future…I love her work…
The human needs to totally send Mme Cinnamon a message and work out a custom project. I need more things.
Before I end this post, I leave you with a picture of me in my favorite LJ piece of all-time. It is a tank top, from her summer '08 line. I love the print on the fabric so much, plus it looks great with a sweater from AG: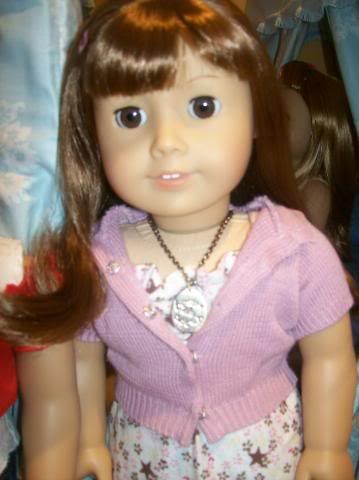 -Sabine