JE SAIS QUE VOUS ETES JALOUSES.
Basically, since I am the Queen of Style, I came up with the most amazing outfit that will leave everybody else envious beyond belief.
What I am wearing (in case you want inspiration...but use this as inspiration only!):
-Julie's Christmas Blouse (AG)
-Black flounce skirt (Liberty Jane Clothing)
-Black sweater of awesomeness (AG a la mode Couture)
-Black flats from Ivy's Chinese New Year dress (AG)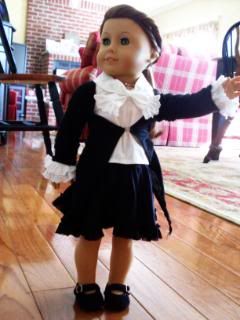 Listen. I know you are jealous because you could never dress like this. Because you lack the same sense of fabulous style that I have.
Everyone loves my clothes; it's an obsession.
<3
Sandrine xoxo