Bonjour! C'est moi, Aurélie! C'est la première fois que j'écris sur ce blog, et je vais vous dis des choses de moi.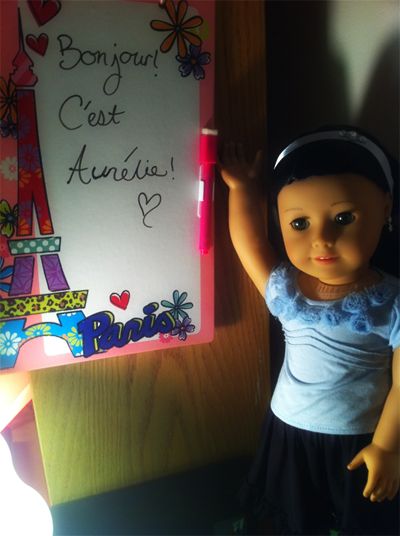 For those of you who do not speak French, my name is Aurélie Faubert. It is pronounced like "oh-ray-lee foh-bear". Of course, this pronunciation guide is not perfect or exact because many of the sounds found in French are not the same as the sounds found in English. I tried my best to get close, though.
I guess I should start off by telling you a little bit about myself. I am an only child, and I have always wanted a sister more than life. Because of this, my parents have hosted various exchange students from various countries. I am always fascinated to hear about their home countries because I love traveling and learning about other cultures, just like Sabine. Anyway, my parents are in the process of trying to adopt, and I hope that it works out.
I enjoy traveling, shopping, fashion, photography, playing the flute, ballet, tutoring children who are struggling at school, and giving children private ballet and flute lessons. Let me elaborate on these hobbies.
I am interested in traveling because there are so many interesting places in the world, and if you stay in one place or area your whole life, you are truly limiting yourself. I have been to Belgium, England, Germany, Switzerland, and Italy since they are relatively close to France. I have explored various cities and regions of Germany, obviously, because my dad is German teacher at Sabine, Sandrine, and Julien's
collège! I am dying to visit Ireland, Spain, Russia, the Czech Republic, and Austria. Oh, and I really want to visit the United States the most...especially New York City! It sounds magical.
Shopping and fashion are sort-of linked together. I enjoy clothes, and I think they are a work of art. I am interested in haute couture, but not because of the labels or because it is haute couture. I'm into the design, quality, and craftsmanship. I'm teaching myself how to sew because I'd love to design my own things! I have a fashion sketchbook in which I draw my ideas for outfits and stuff. My favorite things to design are wedding gowns or dresses for events like film festivals. I would be honored to one day see my work being worn by actresses at the Oscars or C
ésar (France's version of the Academy Awards) awards! I also, of course, like shopping and putting together new outfits. I try to mix and match what I have in my wardrobe to create new looks.
I'm also really into photography, especially fashion photography. How cool would it be to see your photos in fashion magazines? I love to dress my friends up and take them to various beautiful places in Lille for "photoshoots". I only have a basic digital camera, but I would like a DSLR. I'm saving my money for one. I'd also like to improve my photo editing skills; they aren't too great right now.
My favorite two hobbies are ballet and playing the flute. At age six, I told my parents that I wanted to play the flute. I saw a young woman playing it on a TV show one day, I thought it looked fun and more glamorous than the other instruments. I began to take private lessons, and I fell in love with it. I quickly mastered my major and minor scale, memorized my circle of fifths, and was able to play a chromatic scale two octaves. There were times I felt like calling it quits, especially when I couldn't master playing sextuplets...ugh. However, giving up is lame because good things take hard work and practice. I didn't just start out sounding amazing when I began playing. With an hour of practice each day for a month, I was able to move my fingers fast enough to master those pesky sextuplets. It felt exhilarating.
When I was around age 4, my parents took me to see Don Quichotte performed by the ballet de l'Op
éra de Paris at the Palais Garnier. When the show began, I tugged on my mom's jacket and said, "Maman, je veux danser!" She enrolled me in my first ballet classes later that year. My instructors thought I was very good- potentially good enough to dance with l'Op
éra National de Paris. I was en pointe by age 12, and it wasn't just because I was a "natural", as my instructors often called me. It was because I worked hard.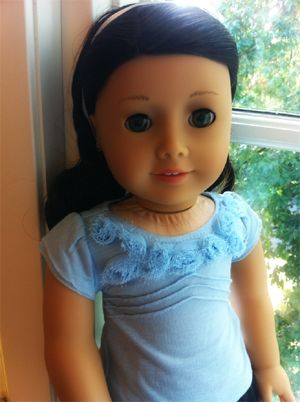 Working hard is one of the main reasons why I like to tutor children in school or give them private ballet and flute lessons. I am not academically gifted like Sabine and Sandrine are; I am more along the lines of what one would call an average students. However, I don't settle for average because it's just not me! I work hard in school and study a lot because I want to get high grades...even if that means pushing myself to the limit. Seeing myself struggle and overcome obstacles made me want to tutor children. I tutor them in most any subject. If I don't understand it myself, I'll work with myself to "get it" so I can explain it. My best subjects are probably math and German because like I said, my dad is a German teacher. My mom is a math teacher, and that's why I'm good at math. Math and German aren't my favorite subjects, though. My favorites are English and history, even if I did have to work hard in English. I also give children private flute and dance lessons, and they are usually so happy when they see an improvement. It makes me smile, too.
Idealistically, I really want to dance professionally or play flute professionally. It is when I'm dancing or playing the flute that I come alive and break out of my little shell. My parents are very quiet people, and I guess I inherited the shyness and quietness from them. I don't feel as alone when I dance or slide my fingers across the cold metal keys. In both cases, I get lost in the music. I either dance my heart out or blow my heart out until I cannot breathe.
My loneliness is what caused me to want to work with children. I was the only child that my parents were able to have for medical reasons, so I try to make up for that by working with kids. If I cannot dance or play flute professionally, I want to be an English teacher and sponsor school trips to America.
My best friends are Sabine, Julien, G
érard, and
É
tienne. They go to a public school. I don't mind that I attend a different school than my closest friends because I still see them all the time on weekends and occasionally after school. I do have friends at my school, but they are more of people to talk to. My closest friend at school is named Laurine, and she is originally from Belgium. I have close friends at my dance studio, too; they are twins and have the tendency to be overwhelming, but I like them nonetheless.
I do not get along with Sandrine. We have a lot in common, but I could never be friends with her for various reasons. To say the least, she makes things very, very, very difficult...
I'm still nice to her, though. I don't hate her, so definitely don't think that.
Oh, I guess I should also add that Sabine is my best friend in the whole entire world, even if we go to different schools (I go to a private Catholic school). I guess I could call her a sister, especially since we know each other so well and spend TONS of time together. She would argue that I'm not shy and quiet because I guess I'm a little louder and more talkative when I'm with her. She's not boring at all, and I like the excitement. We like to sing Miley Cyrus songs together, even though I cannot sing at all. It's just fun.
I'm not as big of a Miley fan as she is, though. I do, however, like most American pop music like most French people my age. I also like older music, like the songs sung by Edith Piaf. Maman played her songs all the time when I was little, so I grew up with them. Actually, La M
ôme is one of my favorite movies. People even say that I look like Marion Cotillard, the actress who played Edith. That is such a compliment! She's my favorite actress! She was in Nine, too, and Inception. Both were awesome movies.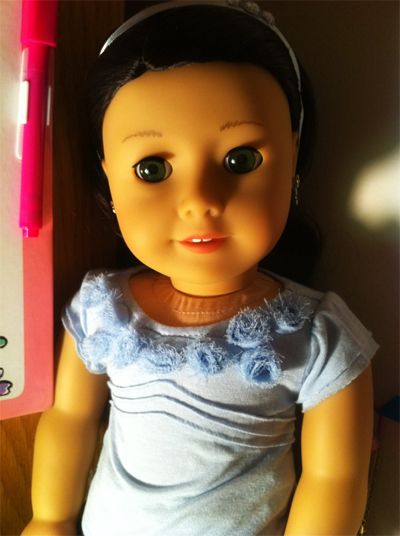 That's just a little bit about myself. Sorry it was so long; I guess you really can't believe that I am super shy and reserved now. I am, but I like writing a lot, and it is a good way for me to practice my English. I'll stop writing now, and hopefully, you'll hear more from me soon!
A bientôt!
-Aurélie

PS- Be sure to check out my profile page if you want to know more about me! Also, I have an account on the online game InnerstarU. My username is Camille561 if you want to add me! I couldn't use my first name (it wasn't a choice), so I used my middle name.