Salut, tout le monde! Ce matin, je suis retournée aux États-Unis. La première chose que j'ai vu, c'était Sandrine! Elle a dansé et elle a l'air triste…
I used to think that dancing kept Sandrine sane, but it is now the thing that is further tearing her apart.
Sandrine is extremely talented en pointe and when it comes to ballet, but when she came to the States, she decided that she wanted to take up jazz, too, so she could try out for dance team. She fell in love with jazz, and I think that is her favorite type of dance. Regardless, she has always been told how talented she was when it came to dance, and I think that gave her an ego- she doesn't think she needs to practice!
Because she thinks that, she is at risk for getting kicked off the dance team. I always remind her to attend the practices, but she never listens to me. The dance team needs her. Chrissa and Marisol are both extremely talented dancers, even if they haven't had professional training. Malorie has received much professional training (she attended the Pittsburgh Ballet Theatre School), and I'm sure heiresses Alyson, Ashley, and Alyssa have as well. I don't care if their trainers or dance schools were elite- Alyson, Ashley, and Alyssa are NOT dancers. They are performers. Sure, they pick up dances and can do them, but they are not anything great…especially when you compare them to others. They could probably sell you on a routine individually, but when performing aside other dancers, they look a bit off.
Oh, and Liz. I know it's hard to believe, but she's on the dance team, too. The only dance classes she has ever taken were jazz classes. Again, she's a performer…not a dancer.
I think my sister is very talented, and that's why I want her to succeed! I understand that it is hard for her, especially when the Edwards Heiresses are involved. They don't care about Sandrine. They want to see her fall. They love it when she doesn't come to practices. It fills them with some sort of sick satisfaction.
Sandrine probably realizes this, too, and I caught her doing something I never thought she would do- practice a jazz routine.
She first warmed up…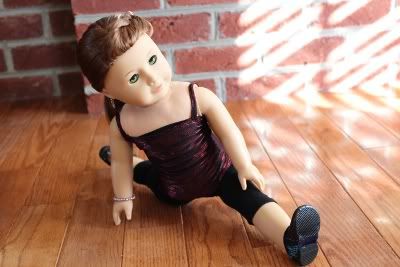 …and then she turned on the music and danced.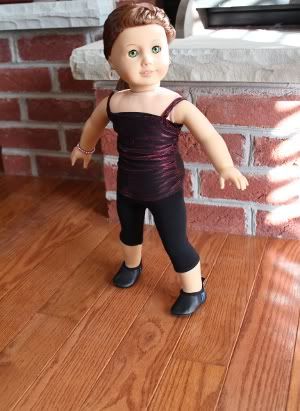 She didn't look happy. In fact, she looked sad. I feel so bad for my sister. She has so much she has to deal with, and I never wanted dance to become her worst enemy. I wish I could help her in some way…any advice? I haven't talked to her yet; I just lurked on her practicing. She doesn't even know I'm back!
Sabine